Clifton Volunteer Fire Department's
Open House 2014
Clifton VFD's 1931 antique (Ford Southern) pumper was on display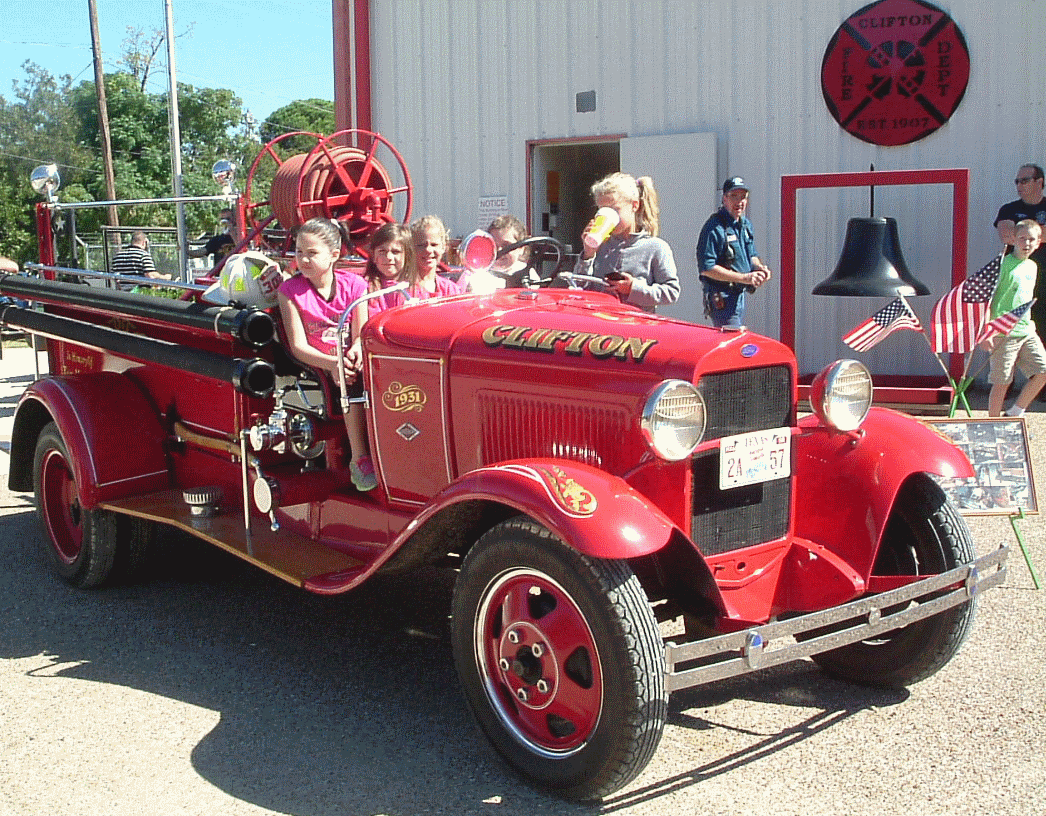 &nbsp &nbsp &nbsp The men and women of the Clifton Volunteer Fire Department have been working hard over the last few years to build a more capable fire department. The fund raising efforts have paid off for the fire department, but mostly the people of Clifton are the benefitiaries of these efforts. A new 3,500 gallon tanker, command vehicle equipped with extraction tools ("Jaws of Life"),and a new large "Brush truck". They have added more truck bays and painted and just out right spuced up the place.
&nbsp &nbsp &nbsp For those who missed the open house, this is your Clifton Volunteer Fire Department. This is their open house for you.
&nbsp &nbsp &nbsp The Girl Scouts were in charge of the hotdogs and sausage wraps. Melanie Harvey manned the Girl Scout table.





&nbsp &nbsp &nbsp Two of the Gypsie Belles (Sarah Schmidt and Lauren Butler) entertained the audience with county and western favorites while Sarah's dad, commissioner Jimmy Schmidt ran the sound board.
&nbsp &nbsp &nbsp Elbow grease, hard work, and a little imagination has transformed a working cluttered office into an attractive tranning room. A 52 inch smart TV is mounted on the wall which was used at the open house to show a continuous slide show of the firemen at work but, will be able to view online training for the newest techniques in wildland fires, structure attacks, and keeping up with the latest dangers envolved with the new automobile designs. Extracting a person from a wrecked vehicle that has the lastest technology from the auto makers can be extremely danger (life threatening) without the knowledge of how to avoid those dangers.
From the cluttered office/training room of 2004
to the clean, modern and attractive training room of 2014.

| | |
| --- | --- |
| | |
&nbsp &nbsp &nbsp New contruction has added 4 more truck bays, which means the trucks will no longer have to be stacked behind each other; the truck which is needed for a certain type of fire is now ready to roll without having to shuffle trucks. The 30 feet by 80 feet extention brought the station from 6,000 square feet to 8,400 square feet.
As one walks in the front door, the length of the new truck bays is very obvious
and all trucks are now up front ready to roll.

| | |
| --- | --- |
| | |
&nbsp &nbsp &nbsp Being a volunteer firemen means having a second unpaying job. That take a lot of dedication. They must rely on the community for donations to operate and maintain the equipment,which is a big expense (these trucks go into fires) and to purchase new equipment, such as thermal imaging devices which can see the heat of a fire through a wall, to a tanker to take water to fire scenes.

New equipment which your donations have made possible are:

A new tanker which carries 3,500 gallons of water
&nbsp &nbsp &nbsp with the old tanker holding 3,000 gallons, that now gives the firemen 6,500 gallons which is needed especially with fires like we had a couple of years ago.

A Command vehicle which carries onboard:
&nbsp &nbsp &nbsp First aid kit
&nbsp &nbsp &nbsp Fire extinquisher
&nbsp &nbsp &nbsp Thermal Imager
&nbsp &nbsp &nbsp Extracation tools
&nbsp &nbsp &nbsp Shovels
&nbsp &nbsp &nbsp 5 radio to communicate with any agency as needed

A new large 4 wheel drive Ford F700 "Brush Truck"
&nbsp &nbsp &nbsp Your donations have been well spent. The firemen of the Clifton Volunteer Fire Department and the members of this community as well as the surrounding communities which rely on the assistance of Clifton VFD, say -

THANK YOU !